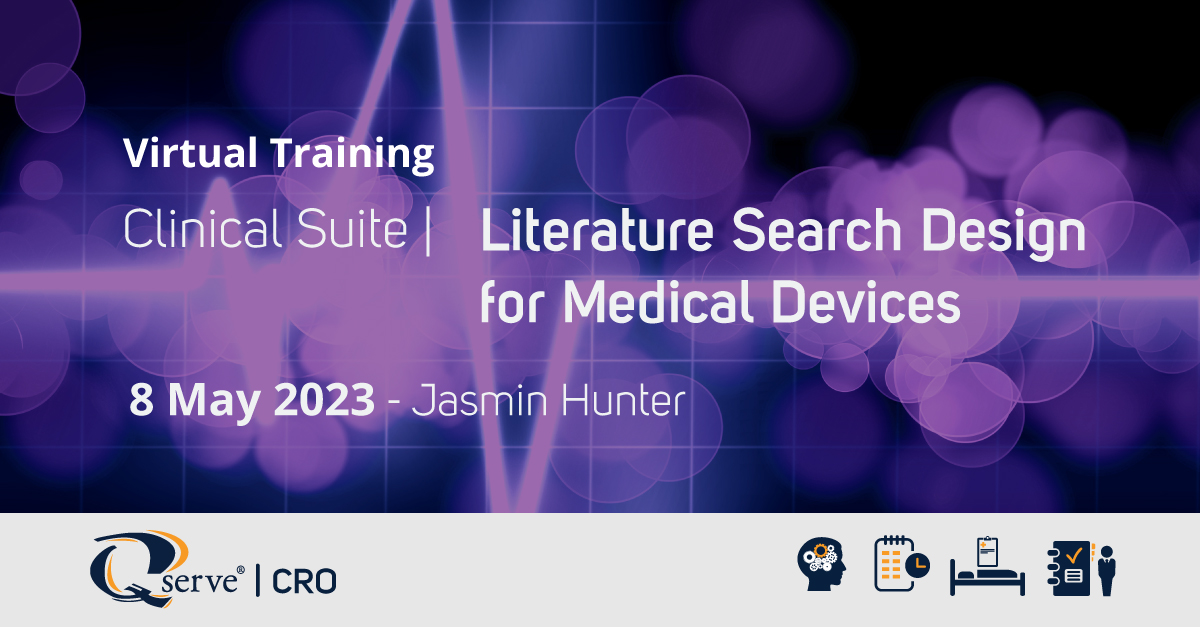 Date: 8 May, 2023
Time: 18:00 – 20:00 CET | 12 PM- 2PM EST
Location: Virtual
Language: English
Price in Euro: € 395,- 
Packages
Price in Euro: € 1495,- for all 5 sessions
* Team Members with Different Roles & Responsibilities? No problem! We offer flexible options for your company, team, or individual experts. You can send different delegates from your company to the sessions and still qualify for the package.
Introduction
Clinical evaluation requirements for Medical Devices have become more stringent over time starting with the release of guidance MEDDEV 2.7/1 Rev 4 in 2016. However, key aspects of the process are not described in the MEDDEV guidance, such as literature search design and appraisal. Focused literature search design is essential for a clinical evaluation to have sufficient clinical data. This training builds on the Qserve Clinical Evaluation training suite to help you use established performance and safety endpoints to focus literature searches for both device-specific and state-of-the-art requirements.
Examples of verified and validated methodological quality assessment tools that are appropriate for appraisal previously published in revision 3 of MEDDEV 2.7/1 guidance were moved to Appendix F of IMDRF MDCE WG/N56 on Clinical Evaluation. Leaving many manufacturers performing clinical evaluation for the MDR to create their own assessment tools that often leave gaps in documentation and leads to the inclusion of irrelevant data that can obfuscate the final analysis. This training offers techniques to meet the requirements detailed in MDCG 2020-13, such as,
Adequacy of search terms,
Database selection and justification,
Acceptability of inclusion and exclusion criteria,
Strategies for avoiding duplication of data, and
Literature search verification – comprehensive identification of relevant data
While this training will offer insight into the literature search process, it is recommended that attendees also register for Qserve's Clinical Evaluation training that will provide the basis for how to arrive at relevant endpoints used for the literature search.
Trainer
REGISTER HERE
REGISTER PACKAGE